For classic car restoration of your auto parts – The book features mainly English companies
The featured low-cost worldwide door-to-door courier to transport your classic parts means the book can also be used overseas
A parts restoration and services guidebook for classic car & motorcycle parts
For all vehicles, veteran, vintage, classic & custom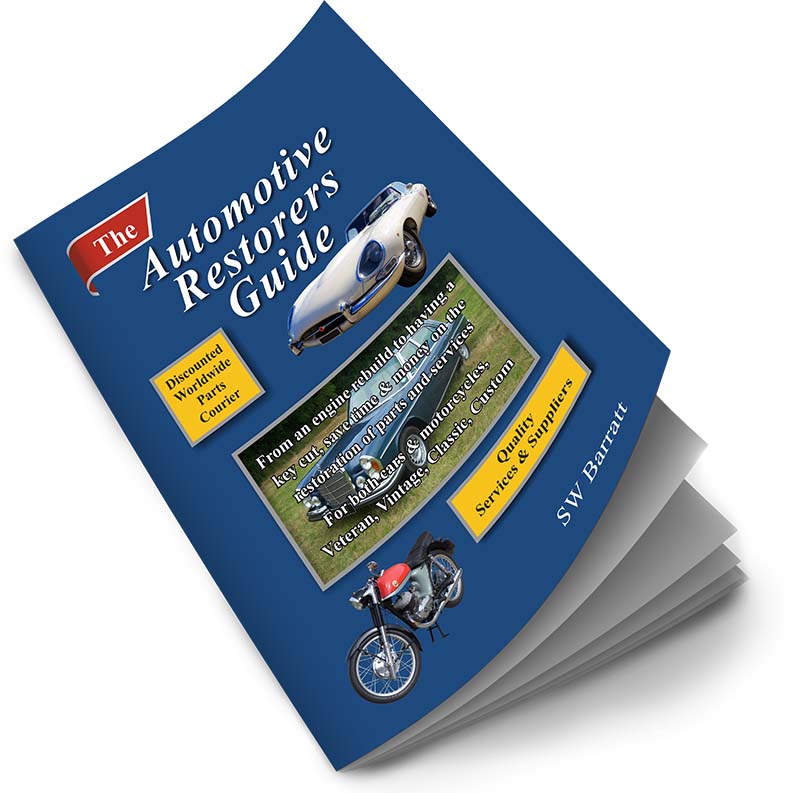 The Automotive Restorers Guide is covered by a money-back guarantee
Don't start your classic car restoration project without this guidebook
Save time and money by knowing which companies you can trust for your classic car restoration project. The English author SW Barratt has used his years of experience to put together this comprehensive guide of reliable mainly English businesses that renew, repair and restore vintage car and motorcycle parts to your satisfaction.
One of the biggest wastes of time is hunting down companies that you can trust with your expensive – and sometimes, rare – classic auto parts. You want real people to talk with, about your concerns, who will see the project through. You don't want to deal with middlemen companies, especially if you run into a problem.
Steven has taken on those challenges for you in this decisive list of mainly English companies. You can have confidence having your valuable parts repaired.
Discover specialist companies for:
Engine repair and reconditioning
Cast iron manifold and block repairs carried out
Trim sections chemically brightened
Crankshaft straightening and journal repairs
Leather and trim upholstered & restored
Laser welding services for the repair of many parts
And much more …
This is a handy classic car restoration book  for all your auto parts when it comes to knowing who to call for the repair, restoring and renewing of old car / motorcycle parts. The guidebook serves as a planning guide towards the finishing of your classic car project by delivering trusted contacts and connections to your fingertips.
For the DIYer, this book is a restorer's directory of who's who in the classic car restoration world.
Order your copy now and make planning your restoration far easier
The Automotive Restorers Guide as seen in: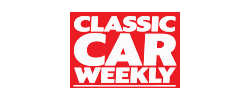 Classic Car Weekly newspaper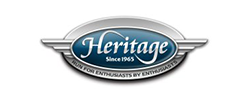 Heritage car insurance blog /newsletter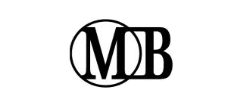 Mercedes-Benz Owners magazine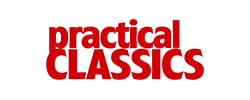 Practical Classics magazine
Read what others are saying about the
Automotive Restorers Guide
Fuzz Townshend
TV presenter of 'Car SOS' & motoring journalist for 'Classic Car Weekly'
I think it's a great idea, it's in use in our office as an easy reference guide.
Mr Simon Haynes
Director of John Haynes Independent Mercedes-Benz specialist, regarded as one of the world's foremost classic Mercedes restoration specialist, established over 40 years.
An informative guidebook for locating many parts restoration & engineering services.
Mr Den
Well Worth the Purchase – Great Book!
If you are restoring an auto – this book will save you TONS of time and effort! It has a great list of parts restoration and services – that can help you find whatever you need to restore your classic automobile! Highly recommended!
No more online searching for 'classic car restoration near me'
This valuable guide can mean no more wasted time hunting for specialist parts restoration services or looking for classic car restoration nearby.
The discount door-to-door worldwide courier service will enable you to use the listed services without being near them.
The 'Automotive Restorers Guide' for every veteran, vintage, classic, custom car and motorcycle restorer, amateur or professional.
The English author used his personal experience to write this valuable guide with lists of many quality-proven companies dedicated to helping enthusiastscarry out the classic car restoration of their auto parts. He has included details of a discounted worldwide parts door-to-door courier service, enabling the guide for use worldwide, so you do not have to search for 'classic car restoration near me'.
He has found these companies fair concerning costs and the work carried out. This directory will provide you with many services and eliminate the need to search for companies that may provide specialised services like car upholstery, specialist engineering or vintage car restoration services. This guide provides verified professionals to bring your old auto parts back to life.
But, that's not all that's included in this 79 page guide. It's filled with valuable advice notes when using the service or suppliers. These tips and explanation pages that will help you understand things like why to buy special heat absorbing coolant for your vehicle. What you should know about crankshaft repair and specialist laser welding of parts which could normally not be repaired.
A description of each company along with their name, address, telephone number and website address where applicable are listed in the guide.
A Free Bonus Gift For you from SW Barratt as a 'Thank you' for purchasing the book
As a 'Thank you', I have attached a free article at the end of the Automotive Restorers Guide. The article explains fitting electronic ignition for your classic car restoration. This electronic ignition is from the company that I have listed in the guide, and that i used in the Mercedes. Saying farewell to the points without having to make any modifications or drilling with this excellent ignition system will make you wish you had fitted it a long time ago. The English office of this company provides excellent telephone advice if needed." – SW Barratt
About the Author: SW Barratt
Steven bought the classic Mercedes JMO 9K, a 1971 300 SEL 6.3 in 2003. Barratts Classic Car Hire was then launched in 2005 after extensive work was completed.
The Mercedes turned out to be a real learning curve, mainly due to the complexity and in general, often awkward design to work on. The work was not an easy classic car restoration rebuild. Over the years spares from around the world were purchased. This is when he decided to help other people to get parts reconditioned, and find suppliers for their classic car restoration projects.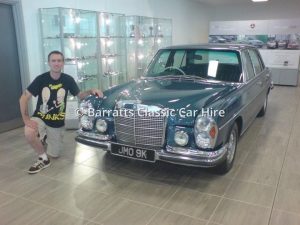 Steven with JMO 9K at Mercedes-Benz World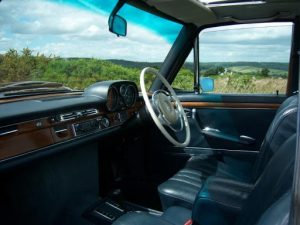 Front interior view of JMO 9K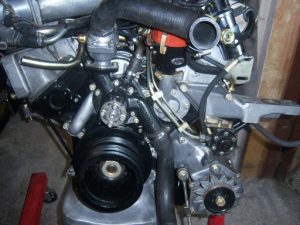 Classic restored Mercedes 6.3 engine
front view
He soon found that a lot of so-called classic car restoration rebuild and engine reconditioning services were just agents who would take your parts in, deliver to a reconditioning service, collect the parts or have them delivered back and then charge for their service. Although they advertise themselves as a reconditioning service, they were in fact just acting as a go-between.
Steven then spent what turned out to be many hours of telephone calls and meetings over 16+ years to find reliable classic car restoration and engineering services to carry out the different services. Apart from saving money, this ensured in case of problems, he did not have to go through an agent. You can sometimes experience a delay going through an agent, as it depends on how helpful or efficient they are at getting your parts delivered and collected.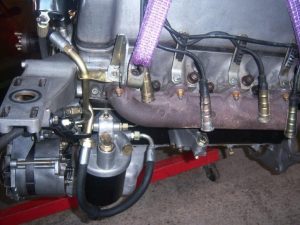 Classic restored Mercedes 6.3 engine
right side view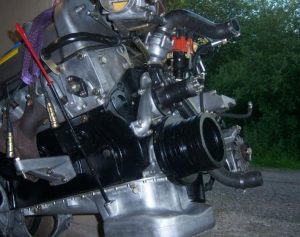 Classic restored Mercedes 6.3 engine
left side view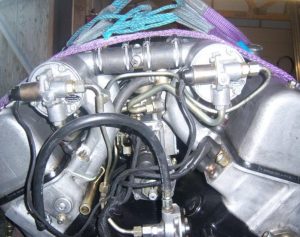 Classic restored Mercedes 6.3 engine
rear view
All above images are of Steven's V8 6.3 litre engine after a rebuild using companies listed in the guide.
Whether you have an old car from the vintage or veteran era or a more modern classic; This directory guide lists specialist services to suit all periods.
The Automotive Restorers Guide was written as other enthusiasts & restorers often asked, 'Where can I get this part repaired or reconditioned correctly without overpaying?'
There is a clear explanation of some classic car restoration services such as 'chemical brightening' that some people often confuse with chrome plating. An example of chemical brightened trim would be the bright shiny metal trim around the front windscreen and back screen.
A look inside some of the Automotive Restorers Guide
12 • AUTOMOTIVE RESTORERS GUIDE
Important Information for Chemical Brightening and Polishing of Trim Sections
To explain to those who are not aware…chemical brightening is the process of brightening the trims, which are often around the front windscreen and back screen. Likewise, these trim sections are also around the doors near to the door glass or on interior door panels, etc. Many people commonly mistake these trims as being chrome plated as they look like the bright chrome finish often found on bumpers and door handles. Searches such as classic car restoration parts are used by customers in trying to look for chemical brightening companies. Chemical brightening is where the trim item is dipped into a bath of hot acid which brightens the item, hence the name chemical brightening. The trim item is then anodised to protect the surface and keep it bright.
There are people or companies that sell different types of polish to bring the shine back to worn dull trims. In some cases, these cutting type polishes will work but…you will have to constantly keep polishing the trim as the cutting type polish will obviously remove the anodising, which protects the surface. These types of polish are not a permanent finish.
One important point to remember when you go to get your trim sections chemically brightened is that the trim sections need to have the anodising removed before you take or send them to be polished. Removing the anodising can easily be carried out by an anodising service anodising listed further on under Zinc Plating. Any anodising service would be fine for removal. The reason for removing the anodising is that it removes the hard anodised finish so that the sections can easily be polished. This is very important especially on thin delicate trim sections, as these sections need to have the least pressure put on them when polishing to avoid distortion. I have listed a company further on under Metal Polishing, for polishing. Both are experienced in classic car restoration polishing as well as classic motorcycle restoration. Once you have the anodising removed and trim sections polished you can then send to the company listed further on under Chemical Brightening.
20/21 • AUTOMOTIVE RESTORERS GUIDE
Crankshaft Straightening, Journal Repair and *Hardening
A note on crankshaft repairs If you have a damaged crankshaft where some, or all of the journals are scored beyond grinding, and it is impossible to locate a replacement one second-hand, then the journals can be built back up with either metal spraying or submerged arc welding. Damaged crankshafts are not uncommon, and often forms part of vintage or classic car restoration.
Metal spraying is a process where hot metal is sprayed onto a journal after it has been prepared. Submerged arc welding is when metal is welded onto a journal. In both cases, the repaired journals are ground back down to the correct tolerance for the bearings. Metal spraying can be carried out by the engineering listed further on under Engine Reconditioning Specialist, Engineering, Machining, *Welding, *Metal Spraying.
Metal spraying puts far less stress on a crankshaft compared to submerged arc welding. However, some views are that submerged arc welded journals are a superior job as the new metal is actually fused onto a journal by welding. Strictly speaking, a repaired crankshaft should be hardened to the same original factory original hardness.
Using hard chrome plating is often not successful for crankshaft journal repair. It is for this reason that I have not listed it.
The company below can often repair your crankshaft by submerged arc welding.
*Important
After repair work, the company below can send the crankshaft away to a specialist hardening company. When a crankshaft is re-hardened, the service is at your own risk.
The risk is that sometimes the hardening process on a repaired crankshaft can distort the crankshaft and render it useless, more so after submerged arc-welded repairs. It is for this reason that many people do not take the risk, and fit the crankshaft without surface hardening.
34 • AUTOMOTIVE RESTORERS GUIDE
Hard Chroming / *Nikasil Plating & *Superfinishing
Hard chroming is a very useful service for classic car restoration or automotive restoration especially when shafts or some low stressed journals are worn and need to be built back before machining back down to an exact finish to fit in a bearing. An example of this would be a steering column.
Nikasil is short for Nickel Silicon Carbide. It is a nickel and silicone (ceramic) plating which is very hard. This is used mainly for providing a very hard wearing surface on the inside of aluminium cylinder bores. In some cases over the years it has replaced hard chroming.
46 • AUTOMOTIVE RESTORERS GUIDE
There are many very good polishing companies around for vintage and classic car restoration. However, finding a company that can polish thin delicate trims that can bend easily is often difficult. The company below can polish from thick large areas down to very small thin fragile soft aluminium sections that many polishing companies would not work on. This is a vital service prior to having sections chemically brightened. If the trim section is not polished, then you will not be able to achieve a bright finish. Sometimes delicate trims can be taped onto a board for polishing to avoid distortion.
Whenever I have sent these delicate sections of trim through a courier, I have made a strong wooden crate from plywood. The crate is then screwed back down and couriered back to you with your polished trims. If the trims are straight, you could use plastic plumbing waste pipe to transport them in.
Just some of the specialist classic car restoration services listed are:
Acid cleaning of engine blocks, body shells
Get your engine block or even body shell dipped clean of paint and corrosion without risking grit blasting getting into oil ways and box sections.
Axle and Differential Rebuilding
This highly useful specialised service can rebuild most axles and differentials.
Auto locksmith
To have keys cut for locks where the original key has been lost, tumblers changed and keyed alike.
Battery Specialist
Get the correct sized battery for vintage or classic vehicles.
Brake Caliper Rebuilding
Get your brake calipers reconditioned.
Carburettor Repair and Rebuilding
Have your carburettor rebuilt.
Cast Iron Welding and Rebuilding
Cracked or broken block or manifold repaired.
Chemical Brightening
For those wanting to get windscreen and door window mouldings etc back to the original bright condition. Many people mistakenly think that these mouldings are chrome plated. They then get them chrome plated, which can peel in a short time. Many companies offering chemical brightening often over anodise the finished brightened item resulting in a milky finish, which is not as bright as the factory original. The company listed in the guide anodises correctly to keep the bright finish.
Coloured Anodising
Coloured anodised surface finishes.
Chrome Plating onto Aluminium
Chrome plating onto aluminium.
Chrome Plating Specialist
To repair dents and re chrome on radio surrounds, trims, handles etc.
Classic Blaukpunt and Becker Radio Repairs and Spares
Get your radio repaired or reconditioned.
Crankshaft Straightening and Journal Repair
Offering crankshaft crack inspection, straightening, journal. rebuilding, grinding and hardening.
Cylinder Head Repairs
Aluminium or cast iron cylinder head repaired.
Electrical Ancillaries Repair and Rebuild
For specialist work on starter motors, alternators, solenoids etc.
Electronic Ignition
This established company delivers a huge range of easy to fit electronic ignition systems for cars, boats and agricultural machinery. The beauty of their systems is that you do not have to drill or adapt the distributor.
Engine Bearing Manufacture and Metalling
Engine bearings can be manufactured from new or re-metalled and then machined. Very useful if your bearings cannot be purchased new.
Engine Reconditioning Specialist, Engineering, Machining and Metal Spraying
This very established company offers an excellent array of standard and more specialist services. Many so-called engine reconditioning companies use this company to carry out work they say they have done. This company is very respected. They work regularly to rebuild from period car and motorcycle engines, up to work on dragster engines! They offer a very extensive range of engineering, machining and welding services. This company can sometimes also supply engine parts, which are not available elsewhere, for example piston rings, valves, bearings, gaskets, etc.
Exhaust Systems
For a 25 year guarantee. One of these suppliers also manufactures fuel tanks.
Fuel Tanks
For custom made aluminium and stainless steel fuel tanks.
Gold and Silver Plating
Sometimes you may need an electrical connection gold plated.
Grit Blast Cleaning, Hot Zinc Spraying and Powder Coating
Have corroded parts blast cleaned, hot zinc sprayed and powder coated to provide an authentic looking yet tough lasting finish.
Hard Chroming
Worn bearing surfaces or steering columns surfaces built up.
Instrument and Gauge Repair
For defective or broken instruments.
Instrument Cluster Repairs and Cable Building
Have worn cables manufactured.
Laser Welding
This high technology welding is used to repair delicate parts and casings, which were often thought as un repairable. Laser welding is virtually distortion free welding due to the concentrated heat source from the laser.
Magneto Rebuilds
Get your magneto rebuilt.
Mechanical Fuel Injection Pump Repair, Spares and Injector Cleaning
For mechanical fuel injection pump repair or reconditioning.
Metal Polishing
This company can polish from thick large areas down to very small thin fragile soft aluminium sections that many polishing companies would not work on.
Oil Seal Manufacture and PTFE Packing
For custom made oil, water and hydraulic seals.
Period Leather and Vinyl Specialist Suppliers
A lot of trimming companies have trouble sourcing the correct original period leather and vinyl. Three specialist suppliers are listed.
Powers Steering Box, Pump and Rack Rebuilding
Have your leaky and or defective power steering box, pump, and rack repaired or rebuilt. Additionally manual steering racks can be rebuilt.
Radiator Repair or Rebuild
For nearly all types of radiators both, vintage and modern, car, motorcycle and bus.
Radio Spares and Repairs
A very useful service for classic Blaupunkt and Becker radios.
Specialist Grit Blasting and Coating
For grit blasting, hot galvanised spraying, spray painting and powder coating on many different surfaces.
Trim, Upholstery, Custom Colour Leather Dyes & Custom Colour Vinyl Paint
This very useful company supply a very large, comprehensive range of products for mainly English vintage and classic cars. A brief example is: trims, window channeling, door panel clips, carpet and trim studs, door and boot seals, hood materials, headlining, foil backed heat insulation, sound insulating felt, millboard, foam sheeting, hessian, piping's, woven bonnet tape, many black rubber extrusions, screws, bonnet catches, grab handles, door locks, window handles, brass taps and fittings. Even an aeroscreen suitable for RAC competition.
Turbocharger Repairs and Rebuilding
Have your turbocharger repaired or rebuilt.
Tyres
For specialist tyres that local tyre companies cannot supply.
Vapor Blasting/Wet Blasting
Vapour blasting has become increasingly popular over the years, as more people are using this process to keep mainly aluminium sections clean. Other non-ferrous metals such as brass, copper and including stainless steel can also be vapor blasted.
Water & Hydraulic Pipes Bent to Shape
Steel, copper, brass, aluminium pipes bent to shape.
Wire Wheels
For Wire Wheels, Steel Rims, and Alloy Rims, Hubs Restoration and Manufacture.
Zinc Plating
For different types of zinc plating.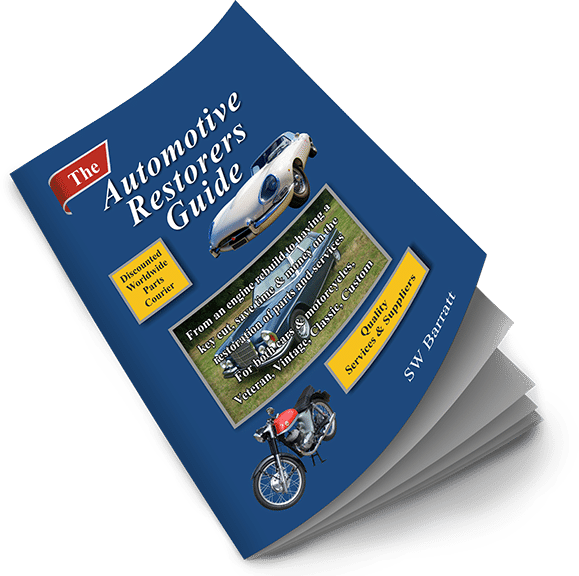 Don't forget … there's the free bonus electronic ignition article featuring one of the leading manufacturers as a thank you gift at the end of the book!
Classic Car Insurance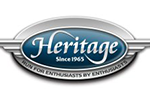 Free Agreed Value
Free Skytag GPS Tracker
Salvage Retention as Standard
Up to 15% Car Club Discount
Save yourself time and money with this useful guide for classic car restoration of your auto parts
Please choose below if you require a digital ebook or paperback book
BUY THIS eBOOK WITH CONFIDENCE
Covered by a 14 day money back guarantee

The download link will be emailed to you once payment has been received
BUY THIS PAPERBACK WITH CONFIDENCE
Covered by a 30 day money back guarantee